Via Scoop.it – Healthcare Continuing Education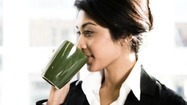 Coffee lovers, raise your cup to the latest research on the benefits of your favorite beverage. Researchers at the University of South Florida say there's a mystery ingredient in coffee that could protect coffee drinkers against Alzheimer's disease.
Using mice bred with symptoms that mimic Alzheimer's disease, a team at USF found that caffeinated coffee appeared to protect the mice from the memory-robbing disease.
In a study to be published June 28 in the Journal of Alzheimer's Disease, the researchers say coffee seems to have an unidentified ingredient that combines with caffeine to reduce brain levels of beta-amyloid — the abnormal protein that is thought to cause the disease.
Show original